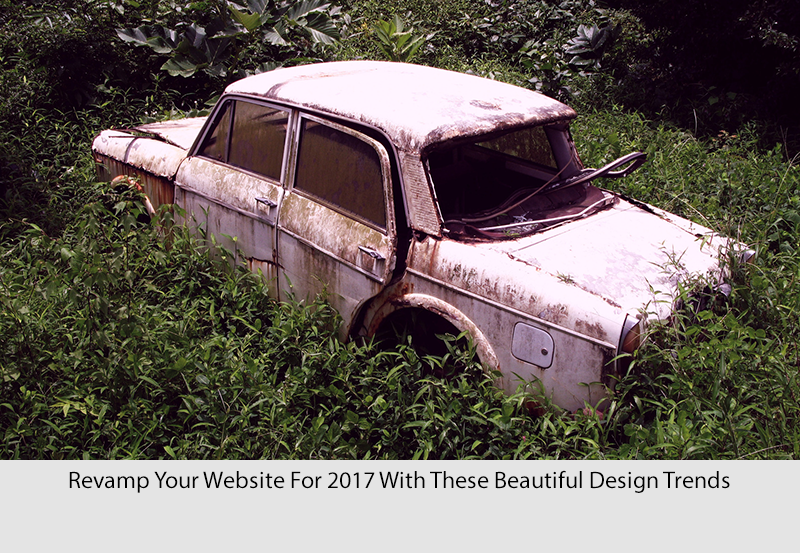 Revamp Your Website For 2017 With These Beautiful Design Trends
If you have been a Facebook user for any length of time, you are all too familiar with their frequent design updates. Folks often get very anxious about "this" getting moved here and "that" getting moved there. Understandably, unexpected changes are more than annoying when they just want to post a video of their baby taking her first steps and the link has been moved!
Facebook HAS to make updates and changes to their interface, otherwise it would get old, stale and look very outdated quickly. Take a look at their designs over the past years, it's pretty facsinating!
Certainly, it is mucho importante (which means SUPER DUPER IMPORTANT) that Facebook keep its interface fresh, clean and current.
It is equally important that you do the same for your website! The last thing you want for your website visitors is to arrive at your website and get the feeling that you have abondoned ship just because your website looks a little dated!
The internet is an amazing arena - it lets the little guys compete with the big boys on a nearly level playing field. You will be much more competitive however, if you website appears fresh and modern rather than stale and dated.
So, here are just a few ideas that you can apply to your own website:
The Use Of Rich & Vibrant Color Schemes
With EasyOnlineSiteBuilder, it's easier than ever to weave colors throughout your website's design. As you know, inside of your control panel you have an unlimited number of colors to choose from and the editor helps guide you to colors that compliment each other.
Utilizing The Grid Design Options
This article goes over WHAT a grid design is and this page shows how it works. But basically, a "grid" collapses and the images and content are shown in a single column so that users can scroll them quickly. (think mobile). Thankfully, you don't really need to know anything at all about grid design as easyonlinesitebuilder.com has built this feature right into the framework for you!
One Pagers, Or Otherwise Known As Long Pages
Last year, more than 50% of all US web traffic came from mobile devices. I'm sure I don't have to tell you how important it is that your website looks and functions beautifully for mobile browsers. All of EasyOnlineSiteBuilder's themes are responsive, which means that they automatically reconfigure themselves when viewed by smaller screens.
Applying some or all of these trends to your website will help keep you looking great and competing with the big boys! You can be that they are planning updates, changes, and even redesigns ALL.THE.TIME!